Hello Visionites Family & Friends.  You may not know it, but this is a significant month for our Pastor.  October is Pastor Appreciation Month!!!  A pastor is called by God to be a spiritual leader, who also gives advice and counsel to the lost souls, preach and spread God's word, be an intercessor for his flock and so much more.
God's Vision Ministries is blessed to call BISHOP BURNICE GREEN, SR. our pastor.  As we celebrate this month with our Pastor, we know that it can be challenging to decide  how you will show your appreciation to this awesome, God-fearing man who serves not only his church family but also his community.
Here are a few suggestion to make your decision a little easier:
1).  Vote - make sure you use your voice to vote in the upcoming Presidential election.
2).  Starbuck Keurig Cups  (K-cups) - Dark Coffee
3).  Anything Sports:   NFL Team:  Dallas Cowboys  /  NBA:  LA Lakers  /  College:  Georgetown
4).  Tie Pins
5).  Big Cuff-links
6).  Encouraging notes
7).  Dinner gift certificates:  PF Chang's / Applebee's / Long Horn Steakhouse
8).  T-shirts with sayings (2XL)
9).  Gas Card
10).  Personal gift cards:   Lowes / Home Depot / Amazon / etc.
11).  Prayer for Pastor for 30 days
12).  Customized towels
13).  CashApp:  $BishopBGreen
14).  Whatever the Lord lays on your heart - if you know our Bishop, you know that he will appreciate it.
Thank you Bishop Green for all of your hard work and dedication to the ministry.  We pray that God continues to ordain your footsteps and you continue to be obedient to His voice.

Message from Bishop Burnice B. Green
Although we, as a nation, are still in the midst of a pandemic, we are thankful that we are now able to worship together every Sunday morning.  Our doors open at 10:15 am and you will be greeted by a member of our nursing team who will ask you a couple of questions and document your temperature.  Our sanctuary is set-up for social distancing and mask are mandatory during the entire service.  We will continue to follow CDC guidelines to ensure the health and safety of our members and visitors.
We, as a church family, will continue to pray for our government in their decision making and front line healthcare personnel who are working vigorously to provide excellent care for our community.  I continue to communicate with the Emergency Response & Health Ministry Teams regarding Covid-19 and the safety of our members, families and friends.

God's Vision Ministries 2020 Theme
As we start this new year, let us focus on making room for God in our lives.  We make room for everything else (family, work, vacation, friends, etc.), but do we really make room for God?  This is a personal challenge for you to ask God to move situations and people out of our lives that do you spiritual harm.  When He removes those things, we challenge you to fill that space with God (worship, reading your bible, prayer).  We pray that this year God is filled with God's blessings.  We pray that you grow spiritually and that God grants you the desires of your heart according to His will.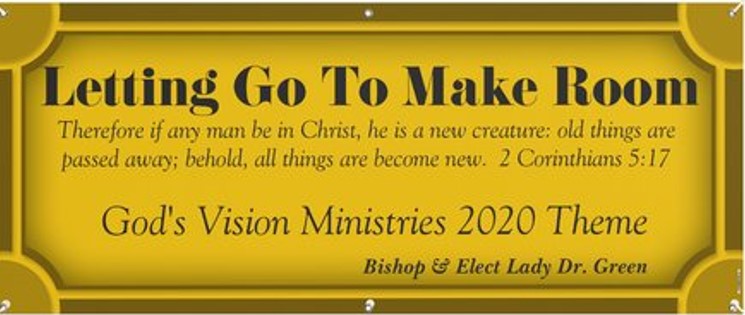 GVM Youth Ministry
G.A.N.G. (God's Anointed Next Generation)
We are truly blessed to have such an active Youth Ministry under the leadership of Youth Pastor Octavia Taylor.  GVM believes in teaching out our youth the true word of God.  We also believe in keeping them active with youth outings, youth retreats, summer spiritual events and so much more.  To the youth ministry team, thank you for your dedication to our youth and their spiritual growth.  To God be the Glory!

2019-2020 Leadership Team
Leader:  a leader is the inspiration for and director of the action. They are the person in the group that possesses the combination of personality and leadership skills to make others want to follow their direction.  Bishop Green, under the direction of God, has developed a leadership team that will carry over into 2020.  As this team follows the direction of Bishop Green, they are challenged to motivate others to move into leadership roles.   As leaders, we are to be committed to God's word and the roles that we are placed in. Go forth GVM leaders to inspire and motivate others as we all work together to build up God's Kingdom.

The Future Home of God's Vision Ministries
In 2004, God's Vision Ministries open its doors for worship under the leadership of Pastor Burnice & Elect Lady Karen Green.  God has blessed this ministry to grow and be a blessing to the community.  We have blessed others with food, clothes, health awareness, and so much more.  Because of God's blessings we are now in need of expanding our territory.  Above is the vision God have to Bishop-Elect Green and he has and always will follow God's vision for the ministry.  If you wish to show your support to the move of God, we invite you to make a charitable contribution to the ministry.  No matter the amount, it will all be put to the expansion of the ministry.  Your support will enable us to continue to be a blessing to the community and city of Rochester. To make a donation, please click on the gofundme button below.  We pray that God will continue to bless each and everyone of you.  To God be the Glory!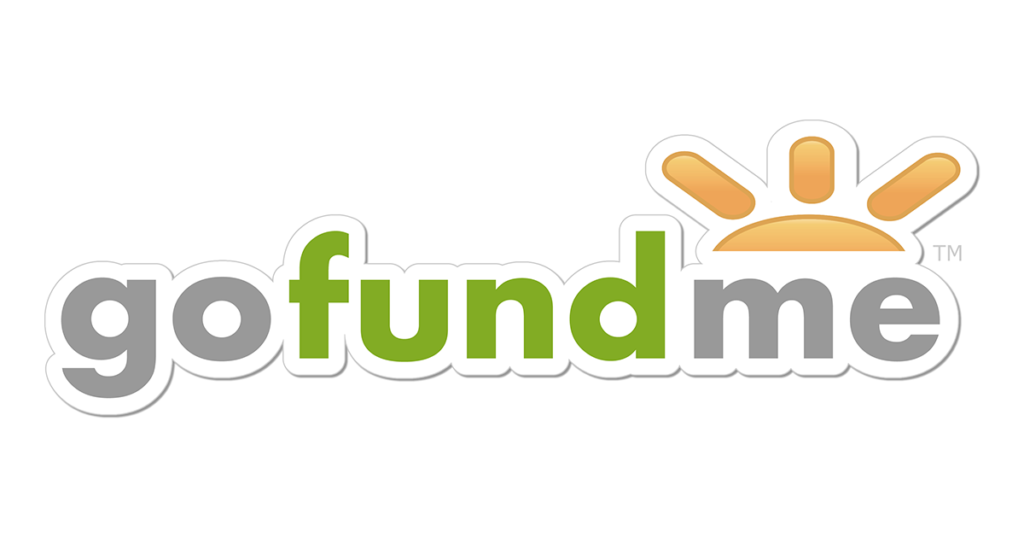 Our Mission
To nurture people in Christian love, faith and hope. Spreading the gospel throughout the United States and around the world.
As part of the vision that God has given to Bishop Green, we want to be a church of technology for the 21st century. God has blessed us to reach souls via our website and through our television ministry and now we have expanded to a YouTube Ministry. We know that the more lives we can touch we are doing our #1 duty as Christians...to bring souls to Christ.  We are humbled that God has allowed us to expand our avenues to minister to the world and we pray that our ministry is a blessing to all those that watch.  We pray that each person will hear something that will give them strength on their Christian journey.  Continue to keep God first in all that you do and know that God is the one that makes the difference.
Our prayer is that God will continue to bless you and keep you in the palm of his hand.
More About Us
Elect Lady Dr. Karen Green is the founder of website. This is a place for the Elect Ladies of various churches to come together to find strength and encouragement. They have such a unique role in the church, helping their husband, the Pastor, carry out the vision. Please visit this page at www.strongelectladies2014.com
Bishop & Elect Lady Dr. Green

Established in November 2004 under the leadership of:
Bishop Burnice & Elect Lady Dr. Karen Green
God's Vision Minstries (GVM) will move forward in excellence following the vision that God has given to Pastor Green.
Order of Services:
Sunday School:   9:45 AM
Sunday Worship:   11:00 AM
Tuesday Night Bible Study @ 7:00 - 8:00 PM
Other services:   click here to see our full calendar
Church Motto:   "Failure is not an option"
Ministry Email:  mail.gvm2004.com